ホーム > English
English
<Welcome to Loghome Quest!!>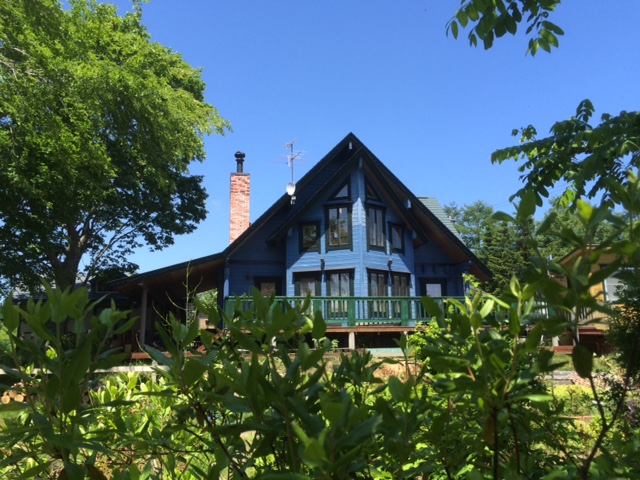 The Log Home Quest Co., Ltd. is a leading log house company acknowledged as the most reliable log house builder in Japan.
We have been providing various types of log houses since we launched our business in 1996, with the aim of improving the quality of your life.
There are remarkable advantages to live in a log house.
One is the air, the most important element to realize a healthy life.
Since the house itself breathes, the inside air is kept fresh.
In addition, you will have health effects of the volatile substances from natural woods.
Furthermore, log house has natural humidity and temperature control function to keep comfortable room condition.
High durability and earthquake resistance are additional strong points.
On the other hand, log houses were said to be "cold" and "gloomy", we have completely solved the problems.
For these reasons, we strongly recommend you to live in a log house to enjoy healthy and safety life with natural coziness.
Please give us an opportunity to build a log house for you.
Our company is located in Hokkaido, however, our carriers, skills and wide network are being able to build custom-made log house in any places in Japan.
We offer you not only for log houses just for living but also for the ones as second houses, shops, restaurants, office buildings and so on.
Where would you like to have your log house?
Do you like the wild life in rich nature?
Would you prefer to live on top of the hill in front of an ocean?
Or living in a residential area in downtown?
Please let us know your idea.
We form your idea carefully and accurately through substantial meetings until you reached to the complete satisfaction.
Considering the purpose and the necessary functions, we choose the best construction methods from the followings.
"Hand-cut log house"   —–  obtains rustic charm of woods
"Machine-cut log house"   —–  gives stylish design and airtight structure
"Post and Beam methods"   —–  use logs for posts and beams and combine with flat walls
Your log house is built of logs carefully selected, and building procedure is tightly managed and controlled. Besides the first class building technique, the carpenters with excellent skills make your log house perfectly completed.
We provide sufficient after-sales service and maintenance system to improve the customer satisfaction. You will always get a quick and appropriate support anytime for any problems, so that you can feel safe and secured.
Please take advantages of ordering us your log house.
We are sure that you will be satisfied with it.
Loghome-Quest.co.,ltd.
Phone:+81-154-25-8032